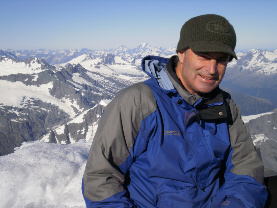 Anthony Coote (MSc hons, MBA) is responsible for the petrological and geological investigations at APSAR. He has more than twenty five years experience in the interpretative petrology and geology of mineral deposits of a wide range of associations and locations. Anthony has gained an expertise and specialisation in the study of gold-copper and related precious-metal/base-metal mineralised systems, associated with collision plate boundary settings in the Southwest Pacific-Southeast Asia, Northeast Asia and Central-South American regions. He has also developed a working understanding of orogenic and intrusion related gold mineralised systems in Proterozoic rocks of an intra-cratonic setting of Northern Territory, Australia.
In addition to working on gold-copper and precious-metal/base-metal mineralised systems, Anthony has been involved with the geological investigation and economic assessment of nickel-copper and lead-zinc deposits of North Vietnam. The economic assessment of a nickel-copper deposit in North Vietnam was extended to include the preparation of a profile of the commercial environment of Vietnam comprising appraisals of government, economics, politics, social structure and foreign relations. Anthony work experience includes planning and implementation of drilling programmes on projects for which he has had petrologic/geologic input.
Anthony's professional career followed an MSc study undertaken through the University of Canterbury, New Zealand. The study resulted in an interpretation of the petrology, geochemistry, structure, volcanology and stratigraphy of Eocene volcanics situated along the Hope Fault, a branch of the Alpine Fault in North Canterbury, South Is, New Zealand. Anthony's accademic history also includes the completion of an MBA through the Asia Pacific International Institute in Auckland, New Zealand, with an MBA thesis focusing on the valuation and funding of the Ban Phuc nickel-copper project, North Vietnam, and for which valuation methods involve an in-depth application of option pricing theory.
A full resume can be supplied upon application.