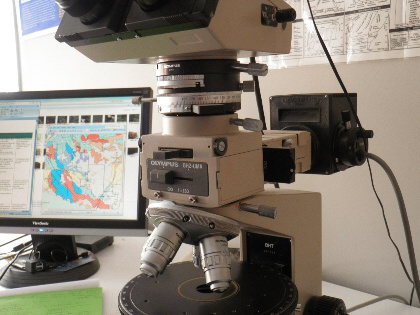 Petrography (transmitted light microscopy): The identification or interpretation of translucent framework mineralogy and textures leading to classification of rock types as primarily sedimentary, metamorphic, igneous or hydrothermal/metasomatic. Petrography also provides for the identification of replacement mineralogy and paragenesis, and interpretation in terms of histories of diagenetic, metamorphic, hydrothermal/metasomatic and/or supergene overprinting; and the identification of fracture-fill and breccia cement assemblages and interpretation of these in terms of igneous and/or hydrothermal/metasomatic processes.

Mineragraphy (reflected light microscopy): The identification of opaque minerals that may be accessory or integral to primary rock types, and secondary replacement and fracture-fill/cement assemblages. Perhaps most importantly, mineragraphic studies reveal ore minerals and ore mineral paragenesis.

(illustrated by photomicrography)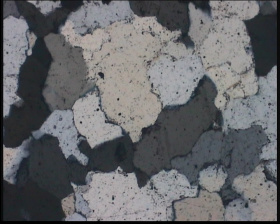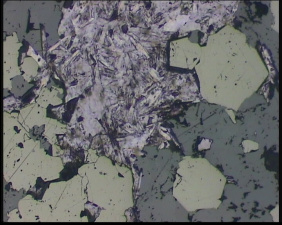 Intergrowths of andalusite, pyrite and quartz of deep high-temperature acid alteration assemblage in porphyry mineral setting. 300 microns field of view. ppl/rl

Granoblastic quartz of porphyry or magmatic hydrothermal style fracture-fill and breccia cement; the quartz host to hypersaline fluid inclusions. 600 microns field of view. cpl.

Intergrowths of pyrophyllite, pyrite and enargite of high-sulphidation copper-gold mineralisation in poprhyry environment 300 microns field of view ppl/rl.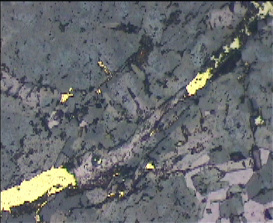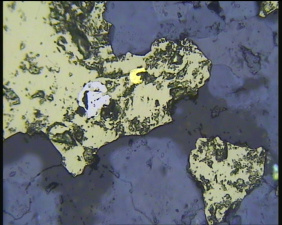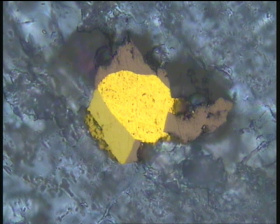 Gold and carbonate filling microfracture in deformed and recrystallised tourmaline of metamorphic style veining of orogenic/intrusion-related gold deposit. 300 microns. ppl/rl.

Pyrite and native gold enclosed by chalcopyrite intergrown with quartz and feldspar of early porphyry/magmatic hydrothermal style fracture-fill. 300 m. ppl/rl.

Chalcopyrite, bornite and native gold intergrown with K-feldspar replacing plagioclase of porphyry rock defining magmatic hydrothermal mineralisation. 70 microns. ppl/rl.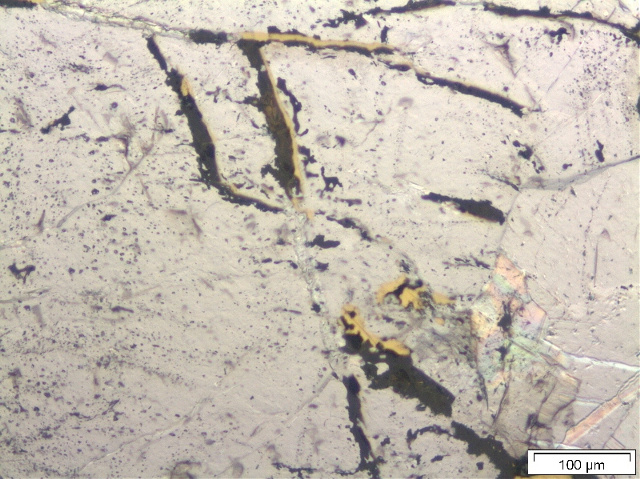 Left. Native gold and carbonate filling fracturing in apatite intergrown with granoblastic quartz, alkali feldspar and chlorite of metamorphic related veining in relation to orogenic/intrusion-related mineralisation. ppl/rl.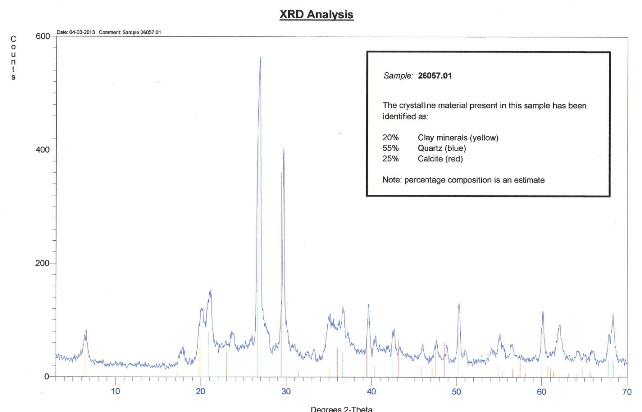 X-ray Diffraction (XRD) & PIMA Analysis may be undertaken in conjuntion with petrography & mineragraphy: Clay separate or bulk/whole-rock analysis, requiring relatively small amounts of sample material, can be used as a supplement to petrographic/ mineragraphic analyses, or as a substitute where thin section preparation is not possible and X-ray diffraction analysis is most appropriate. Detailed X-ray diffraction analysis of clay-rich rocks can provide valuable diagenetic and geothermometric data.
Scanning Electron Microscopy (SEM) may be undertaken in conjunction with or as a follow-up to petrography and mineragraphy. In paricular SEM allows good definition and immediate identification of very fine grained opaque (including ore) mineralogy and provides enhanced imaging of microstructure.